Travis Lumpkin .co.uk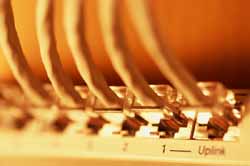 Networking Services
Computer networking is now on the increase with an ever demanding need for wireless access through the home or business environment.
Connecting your computers to form a LAN will enable family members or staff to print to just one printer, or a choice of printers, saving you the cost of providing a printer for each machine.
Networks will also enable your to share files without having to move to another computer or copy documents to floppy disks.
And if you are connected to the Internet, you can share this across the network as well, giving everyone Internet access from their own computer.
We can help by setting up the following services:
Network Installations
Installing cables and networking equipment, and installing network hardware into your PC's.
Print & File Sharing
Connecting family members or staff to your printers and allow access to each other's documents.
Wireless Networking
If you would rather not have network cables running around the floor or up the walls, I could set up a secure Wireless LAN for the ultimate in convenience and portability.